This shop has been compensated by Collective Bias, Inc. and its advertiser. All opinions are mine alone. Add Sparkle to your day by taking a moment for yourself! #AddSparkle #CollectiveBias
Forrest has taken it upon himself lately to become the local law enforcement here at Casa Brown. This is occasionally helpful, like when he informs me that Darcy is trying to eat something that she really shouldn't be eating, or that she's inching her way (with great excitement!) towards an outlet. More often, though, he thinks it's his job to let me know when I'm being naughty, and try to discipline me for my offenses. Recent misbehavior on my part has included singing a song he didn't like, joining in while he was singing, and trying to get him to eat his lunch ("If you tell me to eat my sammich one more time, you are going to be in BIIIIG twouble!!!"). Despite my reassurances that I have the household discipline under control, he remains convinced that he is the captain of time out. And he tries to send me to time out. Frequently and insistently.
I've stopped fighting back. You want me to go to time out? Fine. Totally fine, actually.
I'll go to time out, and you know what? I'm going to like it. None of that babyish whining and complaining and begging to be let out of my room. I'm so done trying to convince him that no, actually, I am the boss and can't be sent to time out. When he pushes me up the stairs and into my room and closes the door behind me and tells me I better "be weally quiet in there and don't you dawe come out until I tell you to!", I stay put. I enjoy my 5 minutes of peace alone in my room without anyone pulling at my sleeve to tell me they're hungry, or they happened to notice that their baby sister just puked on the rug, or someone—and no idea who it might have been—got a little peepee on the bathroom floor. Yes, I take my time outs and I enjoy them.
Because those two little boogers—so cute, so sweet, so precious—are also so demanding, so time-consuming, and so draining. I think I deserve a time out. We all do. Seriously. Don't fight the toddler. Just take. the. time. out.
I've learned over the past few years that I'm a vastly better parent (and more pleasant person, period) when I take time for myself. I feel so much more energetic and happy with my life and ready to pay better attention to my kids when I've had a little space and time alone to recharge. My current way to recharge? Taking advantage of the occasional time out that Forrest seems to think I deserve (oh, how hard my eyes are rolling right now!), and giving myself a gooooood long time out while the kids take their afternoon naps. And my time-out essentials are always a great book and a great snack. Some days, sadly, the mama time out isn't possible—work and laundry and dinner and chores beckon. But some days? It all must be ignored, because you really, really, really just need to give yourself a time out.
Strangely enough, my to-read list never seems to get much shorter (a phenomenon easily explained by my habit of adding 2 new books to it for every 1 book I finish), and I really cherish my reading time during the kids' naps. Getting absorbed in a fictional world, even if just for a few minutes while the kids nap, helps me to come back and handle the one I'm living in with a little more grace, a little more pep, a little more patience. And of course, the time out treat. Just as essential as the time out book, as far as I'm concerned.
Last week, I treated myself to my daily time out with the company of The House at Riverton (which I wrote a bit about here), and a fruity ice cream float made with homemade strawberry ice cream (!!!) and Canada Dry Sparkling Water (Triple Berry flavor). So refreshing and summery and delicious. Paired with an hour of quiet reading, I felt refreshed enough to handle the rest of my day and actually have fun with my kids instead of just powering through until bedtime. Even that small amount of time spent adding a little sparkle to my day by enjoying some time alone with a great book and a delicious treat really helps me feel whole again, rather than just overwhelmed and frazzled by a busy life with two little stinkers.
If you find yourself in need of a Mama time out, how about picking up a Canada Dry Sparkling Water to keep you company? Just head down this familiar aisle at Walmart to grab some for yourself:
And while you're there, save a little money by clicking on the image below to access a coupon to save $0.75 (and you can save $1.75 if you share the coupon page yourself—visit the link for details).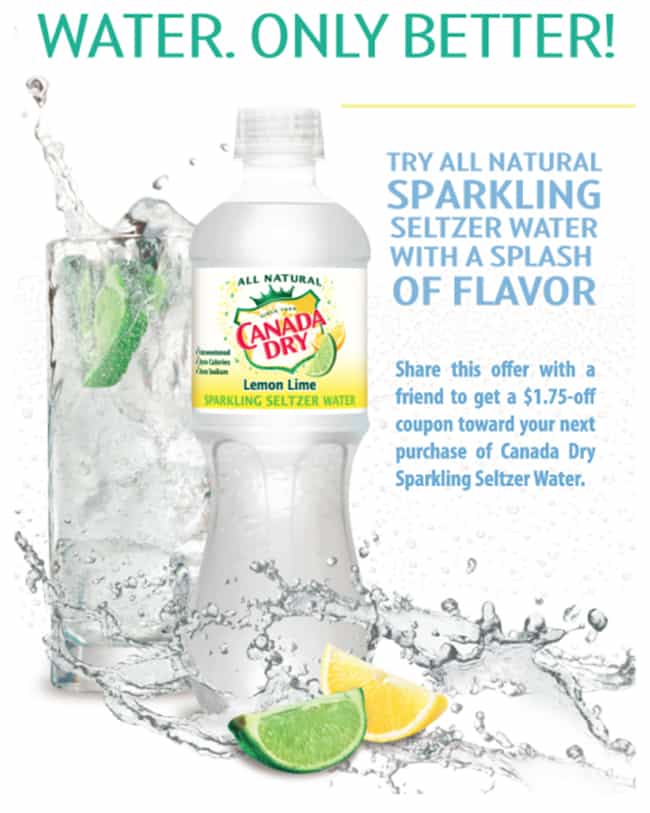 I'd love to hear how you recharge during the day. Do have any tips for making the most of quiet naptimes or finding a few moments for yourself during a busy day?