I still have a few handmade Christmas gifts (both given and received) to show you, and I'm particularly excited about this one. It was one of Jeff's presents that I was most excited to make and show him, and that I fought hard to get him to open early. (I failed. I spend most of the month of December trying to convince Jeff that we should open all our presents right now, but it never works.) You might recognize Bees Knees Knitting as one of the sponsors of our crochet along this past fall—Jenny creates amazingly creative and adorable crochet animal scarf patterns, like these: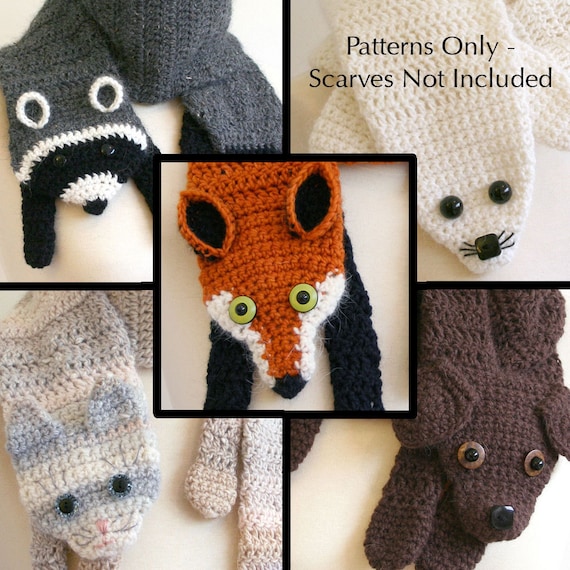 Jeff and I loved them, and he especially got a kick out of the raccoon scarf (top left in the picture above). I had my doubts about if he'd actually wear it, but hey, what is Christmas about if not giving gifts to loved ones that they can't return and might never use?
Awwwww! How sweet is that little fella? He was really fun to make, and I was able to make him entirely out of yarn I already had, so it was practically free to make (minus the cost of the pattern, of course). Speaking of the pattern, I give it two thumbs up—easy to understand, clear instructions with a helpful diagram to show placement and sewing instructions for the ears and legs. I made a few minor changes to accommodate my own laziness (like working in a continuous spiral instead of individual circular rows), and it came out swimmingly.
Cute as that scarf is, it hasn't been worn outside yet, which (I'm sure) can only be blamed on the 50+ degree weather we've been enjoying lately. But I can hardly complain about that! I'll gladly take 50 degree weather in January over my lovingly handmade gifts being used. Especially since I spent the last three winters in Iowa, which could also be referred to as The American Arctic, That Place With The Same Weather As The Highest Point On The Himalayas, Little Siberia, or When Hell Freezes Over It Will Feel Just Like This Place. I think I've earned a 50 degree winter.