I know readers who finish every book they open. If they start reading it, they see it through, period. I recently read an article somewhere that suggested that readers have an obligation to finish every book they begin, that it's somehow wrong or irresponsible to start reading a book and abandon it partway through.
I couldn't disagree more.
If you are one who finishes everything you start, more power to you; I wish you lots and lots of happy reading. But here's how I see it: I have a limited number of hours every day/week/lifetime to sit down with a book, and I want to fill them with books that will bring me the greatest possible happiness. Why spend my precious reading time with a book I'm not enjoying?
So when I'm not liking a book—maybe the plot isn't working, or the writing is poor, or the characters are hard to relate to—I ditch it and run to the library for another. I rarely slog through a book I hate simply for the sake of finishing it. To me, that's wasted reading time that I could have spent with a book I would love.
In the spirit of ditching books I'm not crazy about, I thought I'd share some of my recently abandoned reads.
---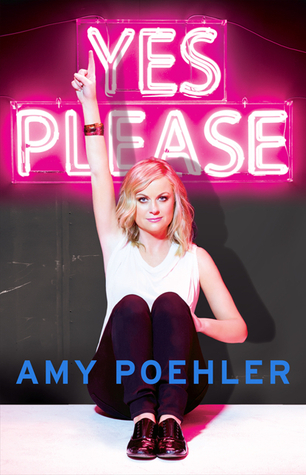 I wondered, after returning this book to the library, if I didn't give it enough of a chance. After all, it took me two attempts to fall in love with Bossypants.

But after listening to an hour or so of this book on audio, I realized that I wasn't laughing. And if I'm not laughing at a comedian's book, really, what is the point?

(I do love Amy Poehler. Just not her writing, apparently.)




---

The Rosie Effect (Graeme Simsion)
I loved The Rosie Project (and included it in my favorite books of 2014!), so I couldn't wait to read its sequel.
I doubt I lasted more than 50 pages—it was high on tedium, but low on charm. The first book was definitely detail-oriented, but written so charmingly that it was a pleasure to read instead of a chore. This one didn't have the lovability of the first.
---
Those Who Save Us (Jenna Blum)
I feel especially disappointed when I fail to be thrilled by a book that is almost exclusively praised on Goodreads, which was exactly the case with this one.
After spending an hour or so reading Those Who Save Us (set during WWII), I felt almost positive that I knew just where the plot was headed and how it would get there (I could be wrong! but I don't care enough to google it and find out).
I was feeling very iffy about the writing (which aimed for deep literary waters but belly flopped into the shallow end instead) and the characters (who I felt no connection with whatsoever). Then a very strange, sorta rapey sexual encounter clinched it: time to set this one aside.

---
The Cure for Dreaming (Cat Winters)
After enjoying In the Shadow of Blackbirds (by the same author) last month, I hopped on the library hold list for this one, a YA read set in the early 1900s. It took me a solid 80 or so pages to decide I was enjoying Blackbirds, so I was prepared to devote a little time to this one before falling for it.
But I never fell. It felt slow and boring without the addictive creepiness that made Blackbirds so very fun. (The creep factor in Blackbirds: ghosts. The creep factor in Dreaming: hypnotists. Not all that creepy, you know.)
And have you ever read a book that hits you over the head with a moral takeaway instead of gently nudging you toward some lesson to be learned? Well, this book might as well have been a sledgehammer. It pounded that moral as hard and as frequently as it could. Big turnoff for me.


---
Sometimes I don't have specific complaints about a book I set aside unfinished—something just isn't 'clicking' for me. That was exactly the case with this book, a murder mystery set in in Tudor England.
The setting was interesting, the plot was engaging, the writing was solid . . . but for some reason, I just couldn't get into it. When you find yourself not giving a hoot about whodunnit in a murder mystery, it's probably time to move along to something else.
---
Astonish Me (Maggie Shipstead)
This novel about the professional ballet world has gotten lots of love from many readers whose taste I admire, but it ended up in my 'unfinished' pile.
A reading pet peeve of mine is being told what characters are feeling without being able to see/feel it myself—and that's exactly what this book felt like to me.
I kept being told about various characters' passion and emotion and deep connections with each other, but none of it rang true to me. When I can't connect with or make sense of the characters—and especially when I'm being told who they are without being able to see it myself—I have a hard time forging onward in a book.
What sort of reader are you—a forge-aheader or a wanton abandoner?