I sure hope you already know and love the ladies of
Simple Simon & Co.
(if you don't, you seriously owe me a cheesecake or something for informing you; dropoffs welcome anytime)--maybe you know them from their big win last season on
Project Run & Play
? Maybe you covet their gorgeous vintage style, serious sewing prowess, and eye for detail? (I do.)
Today we have liZ, one of the sisters (in-law) of
Simple Simon & Co.
, sharing a gift that changed her life.
--------------------------------------------------------------
Hello.
It's me, liZ.
Usually I'm over
HERE
but today I get to spend some time hanging out with Rachel.
(I really love Rachel---she's like one of those friends that you have that you secretly think is way too cool to be your friend and that if you didn't like her so much you'd have to hate her for being too perfect---yeah, that's Rachel: cool, perfect, and obviously nice. Nice enough to be friends with the girl over there in the corner who is drawing in her notebook and listening to Neil Diamond---aka me.)
And speaking of nice, today I get to talk about one of my favorite Christmas gifts. Actually it is a combination of two gifts I received the same year from my mom: a quilt and a sewing machine.
Years before this my mom had given me another sewing machine. At the time I deemed it "Worst Gift Ever!" (Why would I want a lame wad sewing machine?) It sat collecting dust in a closet until someone borrowed and broke it. Oh well, who needs a sewing machine? Not me. (Or so I thought.)
Time passed....I mellowed....I had kids....and one day my mom invited me to attend a quilting class with her. Skeptically I accepted but when I arrived at the class it was like a revelation---all those colors and patterns and designs!
(I was currently an art teacher and a bit annoyed that my mom had been keeping this medium all to herself for so long. Oh, wait, she hadn't. I was just finally ready to appreciate it.)
A few months later Christmas arrived as did a new sewing machine and this quilt from my mom reminding me that all I needed to know was how to sew a straight line.
I love that quilt and that poor machine has more miles on it than my mini van.
Those gifts were positively inspired. The reproduction fabrics got me thinking about all things vintage and the sewing machine gave me the tool I needed to start devouring all those fabrics. And the rest as they say is history.
How thankful I am to my mother who waited for me and tried again---I think she knew I'd come around. Mom's know these things. And so the worst gift ever turned into the best gift ever and allows me to make gifts for others.
And that my friends is where I'll end this post.
Thanks again Rachel for inviting me.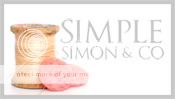 (Oh, and just so you know. Yes. I really do listen to Neil Diamond. In fact I'm listening to him right now----it's another little something I picked up from my mom.)
------------------------------------------------------------
It's almost eery how similar our "sewing stories" are--my poor mother also spent years trying to get me to sew, sitting with me at her machine while I ruined yard after yard of fabric. It wasn't until I was out on my own and bought myself a machine that I fell in love with sewing and realized how fun and creative and useful it could be. Thank goodness for patient moms who don't smack us in the rear with wooden spoons when we ask why they didn't teach us to sew sooner.
Thanks to liZ for visiting, and be sure to check out
Simple Simon & Co.
for more sewing inspiration! Here are some of my favorite projects from their blog: