I'd like to show you today the newest handmade item in my life . . . I only got it a few months ago, but I can tell it's destined to become a favorite. It was a special handmade gift planned and chosen by the person who knows me better than anyone else . . . me.
Right before Christmas last year, I found
this ring
from
Jumping Junipers on etsy
. A handmade, customizable stamped ring with a thin spinner band . . . I thought it was so simple and beautiful and perfect.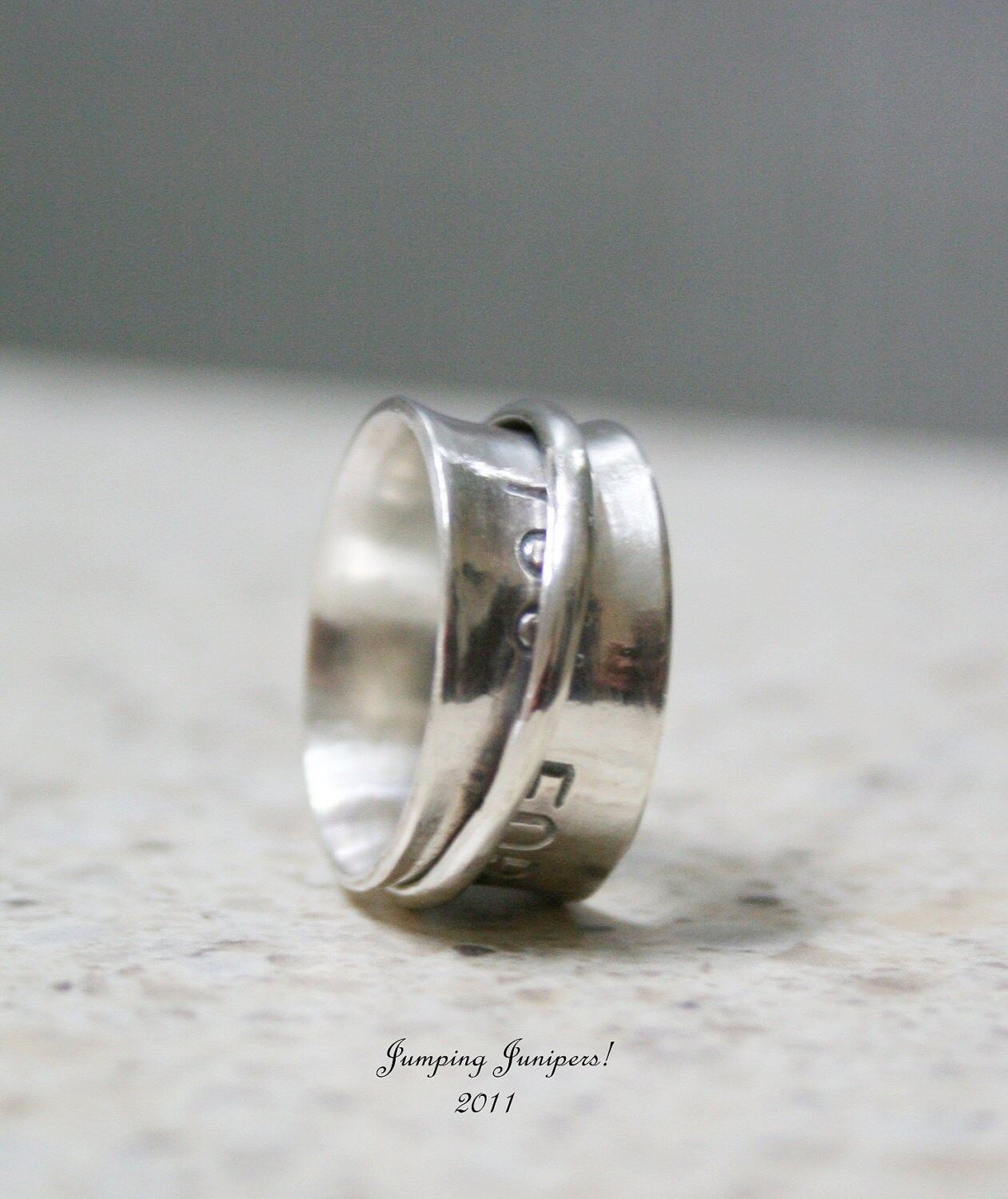 I wanted it for Christmas. I wanted it really badly. But I couldn't think of a message I wanted stamped onto it. What was the perfect word or phrase to capture forever, to carry around with me everywhere I go, and to be a daily reminder of something vital? I played around with a few ideas, but nothing felt right. So Christmas of 2010 came and went without this ring, because I couldn't decide on the perfect phrase for it.
Every few months, I'd remember the ring and brainstorm again, but I never came up with anything that felt right. Should I go with a trite, overused, nearly meaningless but safe/popular phrase? Maybe a loved one's name? A virtue or trait I need to work on and be reminded of?
After (literally) months of thinking, I finally came up with the perfect idea.
Did your mom read you
this book
when you were little? Maybe you've read it to your kids?
My mom read this to me countless times when I was young, and I loved it. If Forrest ever sits still long enough to hear a book read to him, he'll hear it plenty, too. The mother in the story sings a song over and over to her baby boy as he grows up:
I'll love you forever,
I'll like you for always,
As long as I'm living
my baby you'll be.
It finally hit me--there was my phrase. There was the perfect memento I was searching for . . . it would be a constant reminder of the family who raised me and, now, the husband and baby I love forever.
I believe that families can be together forever,
and what better message could there be for me to wear and be reminded of every day?
(And it needs a bath. Never mind, move along.)
I decided I'd have Jeff buy it for me for Christmas this year. The only thing that could make my special ring more special was pretending he had picked it out for me. I made it to September before I broke down and
ordered it
for myself. Close enough!
It may not have been handmade by someone who loves and cares for me, but I love the handmade touches on this ring--it has the exact message I'd spent months planning, I love the character it gets from its little imperfections, and I love knowing that it was created just for me. I've hardly taken it off since it arrived a few months back, and I love the constant reminder to be patient and loving and kind with the people who matter the most.
(I should point out that Ros, the owner and designer at
Jumping Junipers
, has this style of ring on hold for the holidays to catch up on existing orders, but there are dozens of gorgeous jewelry items in
her shop
, and I think this beautiful ring is worth waiting for. I can't even tell you how much I love mine.)
(Also, I didn't get anything in exchange for writing this. I just love my ring a ridiculous amount.)